FLIGHT TO SEATTLE
---
---
Buying flight directly from the airline company vs. third parties.
I recommend that you visit airline websites and buy your flights there. Until recently I used expedia.com. I bought a return ticket by British Airways, Prague – Seattle. The price was the same on expedia.com as on the British Airways website. I was on the ship, when I decided to defer my return flight by one month. This can easily happen to you as you can earn even over $5000 for extra ten days on the boat. I called expedia.com and was told that it would cost me additional $700 to defer my flight. They just buy you a new plane ticket. I then surfed British Airways directly, only to find that they would charge me only $200; the difference between my original return flight and the deferred one. I saved $500 by visiting the British Airways website. Expedia.com and similar sites are useful for price comparison, but most of the time you will be better off buying the flight directly from the flight providers.
---
Greedy Bank Of America? Beware of international transaction!
I purchased a flight from the British Airways website using the captain's computer (he had non restricted access as opposed to the shared computer). However, once I got back from the boat, I found out that I was charged a $40 fee for making an international transaction. The bank explained to me, that this was because British Airways is a foreign company, which is why I was charged the fee. I found that strange because I bought flights from BA in the Czech Republic and in the US several times before and I was never charged this fee. They did not give me my money back. If I had bought the same flight over expedia.com for the same price, I would most likely not have to pay this fee as it is an American website. Just keep that in mind.
---
Purchasing a flight – The sooner, the better?
What they usually say, the sooner you buy your ticket the cheaper it will be. From my experience, I know that the cheapest flights are in January. I purchased my last flight on January 8th with departure from Prague to Seattle on January 12th. The return flight cost me only $900. Two years before that I bought the flight almost three months ahead from the same company – British Airways, and it cost me over $1200 and it was also for January. So there is no rush if you intend to leave on January.
---
You are on a fishing boat!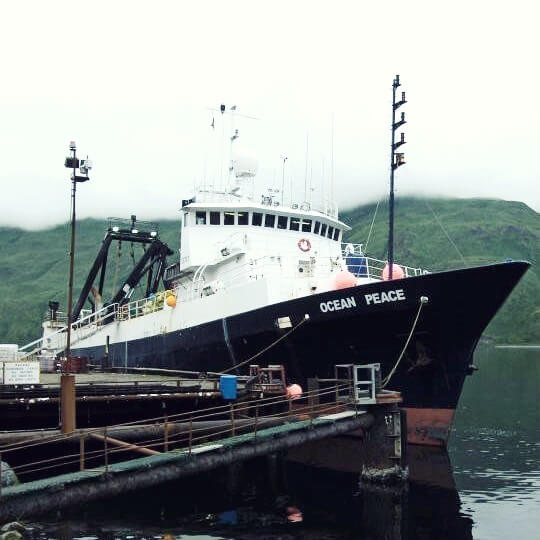 #factorytrawler (old) F/T Ocean Peace in #DutchHarbor, #Alaska refueling #sea #BeringSea #fishingboat #fishing #north #northern #boat #sealife #OceanPeace #trawler #dragger
That means you can never be completely sure, when you will be coming home. You will spend at least 30 days on the ship, maybe even 90 depending on:
the length of your contract
company you work for
your physical and mental state
not to mention variable length of each trip
I had an opportunity to purchase/change my flight from the boat, but I can't guarantee you will get the same opportunity with other companies. On return, take into account extra expenses like paying for a hostel/hotel.
---
---
NEXT // SEATTLE – ACCOMMODATION